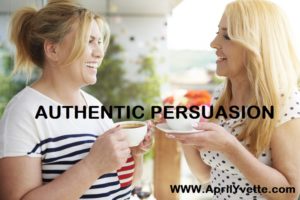 Welcome! I'm so glad you are
part of our community!
I'm excited to share my new blog series today
called "Authentic Persuasion" (1 of 3)
In this blog series, I'm going to teach you
the 5 things required to boost your
ability to effectively lead, influence,
and persuade people.
Unfortunately, some people think of persuasion
and influence as a slimy, icky, old school sales tactic
that takes advantage of people just
to get something from them.
Yes, there are a few people in the
world who engage is this fear-based
behavior. But that's not the kind of
persuasion I'm talking about here.
I invite you to see persuasion and influence
in a positive light.
I believe in authentic persuasion.
Authentic persuasion is about
influencing another person to take
a specific action or become something
better or change something or invest
in something that is for their highest
good, for the good of those around
them and for the good of the planet.
Yes, it's ok if you persuade someone
and you benefit from it too.
The key is to genuinely have their
best interests at heart. This is
being more "others" focused rather
than "self" focused.
At any given moment, we are either
persuading others or they are
persuading us.
From persuading our son
or daughter to further their
education to persuading
our spouse to marry us,
to persuading an employer
to hire us, to persuading
our customers or clients
to buy our product or
service because we know it
can truly help them.
We can use persuasion
to truly help other people.
There are 5 things to help
boost your ability to effectively
lead, influence and persuade
(Connect with a higher power, Source, whatever you call that
power that is greater than yourself. I call it God.)
2. Learn and Develop persuasion skills
3. Develop Conviction Level Confidence
4. Release Fear, doubt and limiting beliefs
5. Share Stories that demonstrate proof
________________________________
Let's start with 1. Spiritual Growth
________________________________
True Story
In 2009, I submitted my information to be
on the TV show Shark Tank, I didn't
hear anything back.
So I thought, "Well, I guess I
didn't get picked for the show."
I was starting to doubt and be
discouraged.
Then I remember saying this prayer,
"God, I surrender this opportunity
to you. If it's meant to be, that is great! But
if it's not, that's ok and I will be just as happy.
I turned it over to God (a higher power).
Within two weeks, I heard back
from a TV producer that
I was a finalist for the show.
And 2 weeks after that they
flew me to Los Angeles, Ca
to film the show! It
happened so fast!
There were 20,000 entrepreneurs
who applied for Shark Tank.
The odds were small that I would
be picked.
How did it happen?
First, I did my part. I used my persuasion skills
when I wrote and submitted
my application to TV producers.
But there is only so much
I could do on a human level.
I realized that I needed to
partner with God (a higher power)
for supernatural miracles.
When we partner with a force that's greater
than ourselves (I call that force God)
divine power is flows through us.
And that's when you will have
more YESES!, more customers,
more income, more miracles, more of what
you want, and more influence
than you ever imagined.
You no longer have to force and
"make goals happen". It happens with
ease and grace.
I don't mean I just sat on my couch
and waited on God to do the work
for me. I did my part. I was willing
to work on my mindset. I did
the physical work. And I was willing
to grow spiritually.
__________________________________
You may be wondering
HOW do I partner with
a Higher Power? 
Say this prayer (or create your own)
with sincerity in your heart daily,
"God, I am asking you and I  
thank you in advance for helping me with  
_______________________.  
I surrender all. I've done
what I can do. God use me and
my gifts to be a blessing to others.  
Show me the next right step. 
I trust you and believe you are
working behind the scene's on  
my behalf even though I can't see
it yet. I receive all that you have  
for me now. And so it is.
Amen."   
Your big dream is absolutely possible! 
You can authentically persuade others! 
From my experience,
partnering with a Higher Power
(God) is the first step to
boosting your ability to effectively
lead, influence and persuade
It's no longer about "What
can I get". It's about "What
can I give and how can I serve".
That is key to influence and
persuasion.
Next week, I will be sharing
practical ways to develop
your persuasion skills and
get more people to say YES!
p.s. If this message was helpful for
you I hope you'll considering sharing
it with your friends. Thank you so much!
_________________________________________________________
CONNECT DEEPER:
Subscribe to April's blog
here
and receive weekly empowerment, motivation
and how-to advice on mindset, marketing and faith for spiritual entrepreneurs.
__________________________________________________________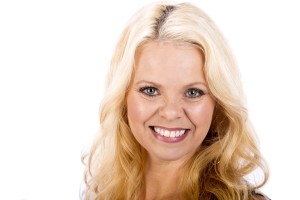 April Yvette- Motivational Speaker, Blogger, Viral Video Creator,
Sales Funnel Video Creator,Strategist, Mindset, Marketing, and Faith.
Seen on: Shark Tank, ABC, NBC, CNBC, FOX, FOX Business Network, Los Angeles Times