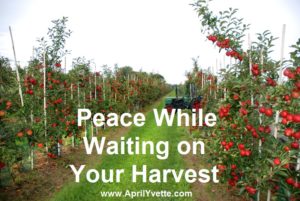 How to have peace while you are waiting on your harvest.
Are you waiting on something to manifest in your life or in your business but you're starting to feel frustrated or anxious that it hasn't happened yet?
Maybe you're trying to manifest a goal like… 
Launching your dream, Growing your business, attracting more clients, reaching a sales goal, earning more income. Or finding the love of your life or losing weight.
Maybe you've been taking action, doing all the right things and sewing seeds but the harvest hasn't arrived.
I have been in most of these situations myself. So I know first hand how frustrating and stressful it can be to WAIT. And Wait! And Wait! But I want you to know that you can have peace while you are waiting on your harvest by doing these three things.
1- The Law of Gestation. Know and accept that there is a gestation period for all things in life. "Seed, Time, Harvest" is the law of gestation. We can't jump from seed to harvest. Just like a baby in a mothers womb takes 9 months to fully form; your harvest must fully form too. If the baby was born in the 2nd month of gestation it wouldn't survive. Your blessing and your harvest may not survive if it arrived too early.
Often times, we are the one's who need time to mature and grow emotionally and spiritually before we are ready to be entrusted with more. And other times, God is working behind the scenes to set things up on our behalf and that takes time too.
2- Do The Work Consistently. Sometimes our harvest is delayed simply because we aren't doing the work that's required to reap the harvest. We start out with a bang and eagerly take action but after 6 weeks, 3 months, 6 months or a year later we start slacking off or quit taking action towards our dreams and goals.
God wants to bless us but he ain't gonna do the work for us. We have to do the work consistently to reach our dreams and goals. And when we've done all we can do, then we surrender it to His will. When you know in your heart you've done all you can do, you will have more peace. I know I do.
3- Pray and ask God to help you reach your goals but also stay detached from the outcome. And be sure to pray for peace during the waiting period.
Reading scriptures can give you peace. This scripture gives me so much peace while waiting.
Philippians 4:6  "Do not be anxious for anything, but in every situation by prayer and petition, with thanksgiving, present your request to God. And the peace of God which transcends all understanding, will guard your hearts and minds in Christ Jesus." 
Peace comes with deep surrender to "God's Will" for our life. I don't mean giving up. True surrender is being excited and enthusiastic about our goals and doing the work to reach them. But also being in a place of detachment from the outcome or results. What I mean is… you do all you can do and if you reach the goal you are happy and grateful. But if you don't reach the goal, you are just as happy because you know God has something better in store for you. This is the peace that surpasses all understanding. Because you are no longer trying to swim up stream and trying to force things to happen in your life and business. Instead, you are taking action while TRUSTING the divine unfolding of your life.
I finally reached a place of deep surrender and detachment. This is a daily practice. It's a process. When you fully surrender while being excited and going for your goals… you have have so much peace. I Promise you!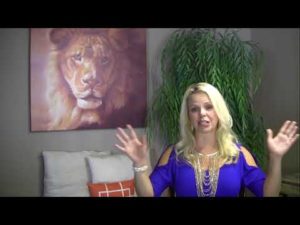 CLICK HERE TO WATCH THE VIDEO: Peace While Waiting on Your Harvest
————————————————————————————————–
Connect Deeper:
Subscribe to April's Blog here: www.aprilyvette.com Weekly motivation, empowerment and tips on entrepreneurship, viral marketing, authentic selling, mindset, overcoming adversity, leadership.
---
Much love,
April Yvette- CEO of April Yvette International, LLC.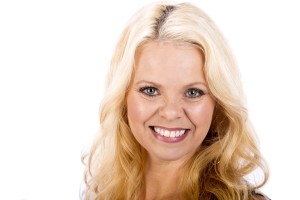 Blogger, Motivational Speaker, Viral Marketing Strategist, Entrepreneur Coach, Transformation
Seen on : Shark Tank, ABC, NBC, CNBC, FOX, FOX Business Network, Los Angeles Times